Lemonaid Health ED Review: Is it Worth Switching to their Medication Subscription Plans?
There's never a good time to have erectile dysfunction — but if there's ever a time to get treatment for it, that time is now.
There are several websites that make it easy to get ED medication, and one of the newest is Lemonaid Health.
The way it works is simple. You go to their site and fill out their questionnaire. They then match you with a doctor who's licensed to write a prescription for generic Viagra or Cialis in your state.
Sounds good — but does it really work? I took their service for a test drive to find out.
Pros & Cons of Lemonaid Health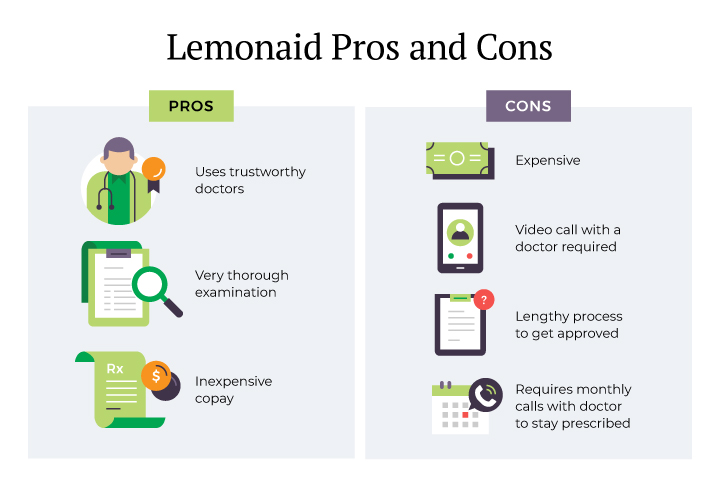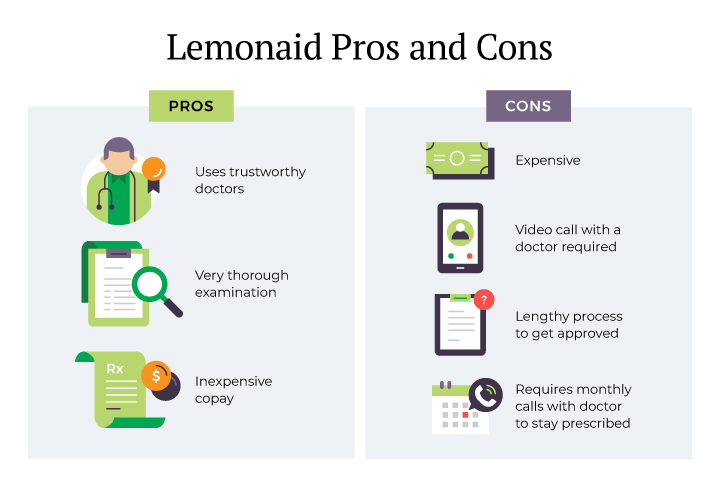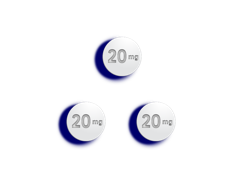 Before I get started with my review, I should note that Lemonaid Health offers a wide range of health services. I only used them to get ED medication, and that's all this review will deal with; I can't speak to their worthiness for treating other conditions.
There are a couple of things that Lemonaid Health does very well, and if the whole experience matched these few instances, I'd be much higher on their service.
They do a great job of hooking you up with respectable, licensed physicians, and they're very transparent about the whole operation. You don't have to worry that your case is being handled by some back-alley butcher.
Of course, that's not necessarily that important when dealing with erectile dysfunction. As long as you're healthy enough for sex and haven't had issues with ED medication in the past, then you shouldn't really need to speak to a doc.
Also, you have to talk to the doctor in person, which eliminates one of the biggest advantages of using telemedicine to get ED pills: anonymity. While it might be less embarrassing than seeing your family physician, the process will still be a little awkward.
They're much less expensive than going to your local doc-in-the-box, though. All it takes is a $25 copay in most cases, and they'll waive that fee if you don't qualify for their services. However, many of their competitors (like BlueChew, for example) don't require a copay at all.
One good thing about talking to a doctor face-to-face is that you're much less likely to get a prescription that's dangerous for you. They're very thorough; however, that may also make it more difficult for some men to get the ED pills they need
Lemonaid Health Cons:
Have to talk to doctor face-to-face

Information they need is overkill for ED medicine

Many competitors don't require copay

Makes it difficult for some men to get the pills they need
Lemonaid Health offers a good-but-not-great experience. I found it was much easier and more convenient than seeing my doctor in person, but it couldn't quite compete with some other services I've used in the past.
How Their Ordering Process Works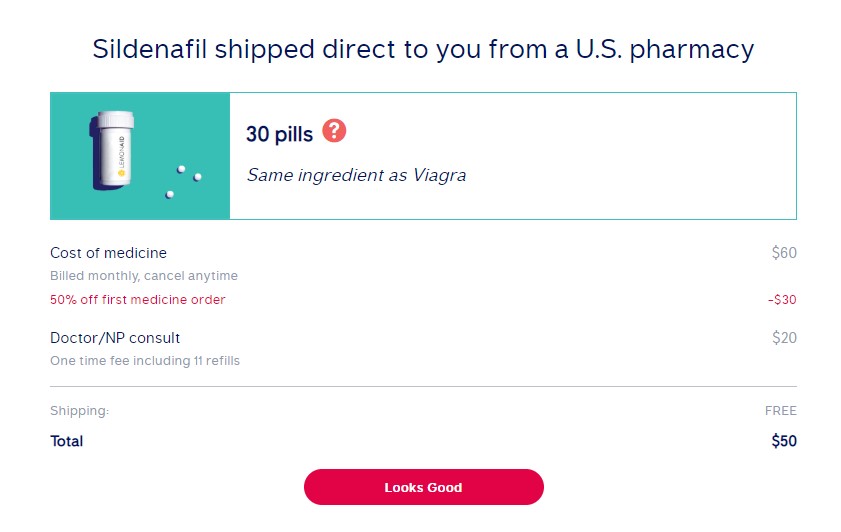 The initial setup process requires you to go on to the site and tell them where you live so that they can hook you up with a suitable doctor. Then, you fill out a brief questionnaire about your health history and any previous experience you've had with ED medication.
You will need to know a fair amount about your health, including your current blood pressure readings, so I hope you have a cuff handy.
However, while that part's easy enough, the next bit is something of a pain.
You'll likely need to speak to a doctor face-to-face — and that means you have to wait for one to become available. Depending on when you log on, you may have to wait a few minutes or come back another day entirely.
They also require you to have had a genital exam performed by a doctor in the past five years. If you can't prove that you've done this, you can't use their service — end of story.
Once you're done filling out the form (there are about 20 questions in all), a doctor will review it for any red flags. Assuming they don't spot any, they'll message you to set up a time for a video or phone consultation.
If that goes well, they'll charge you the $25 copay and approve you for their services. One good thing about Lemonaid Health is that their approval lasts for 12 months, so you'll only have to jump through all these hoops once a year.
After that, it's a matter of picking your medication and paying for it. They'll ship it out to you for free in a discreet package, and you'll get it in 2-3 days.
My Experience Ordering from Lemonaid Health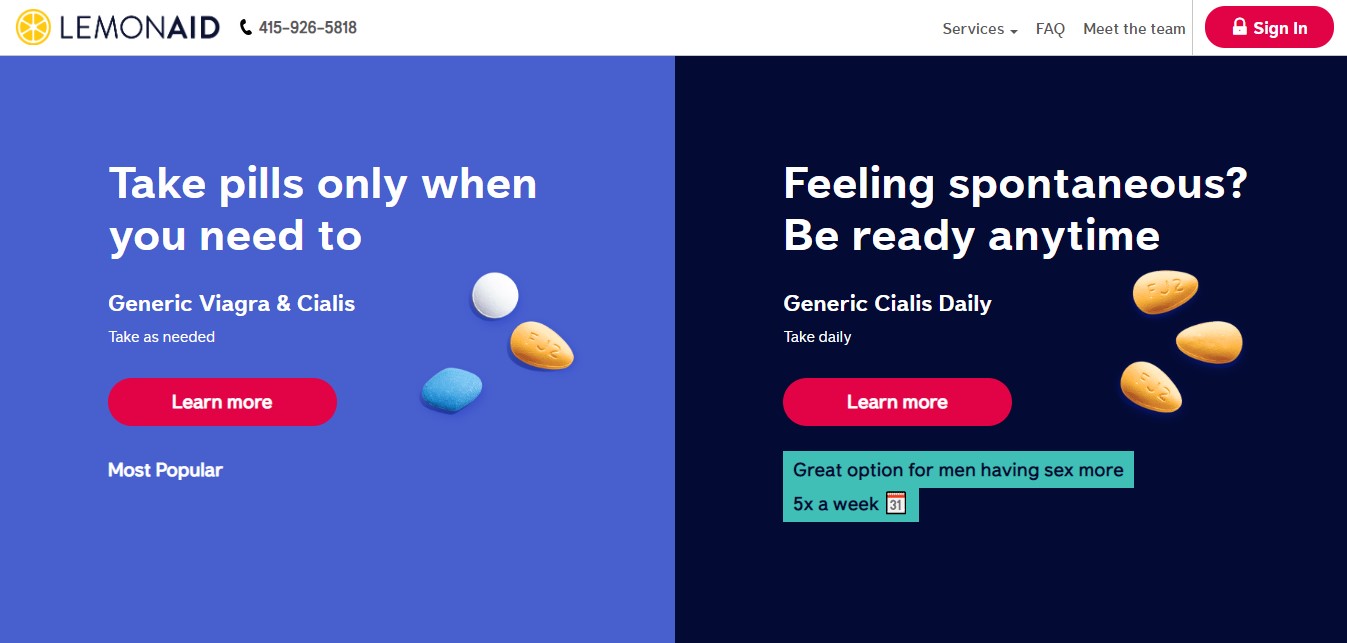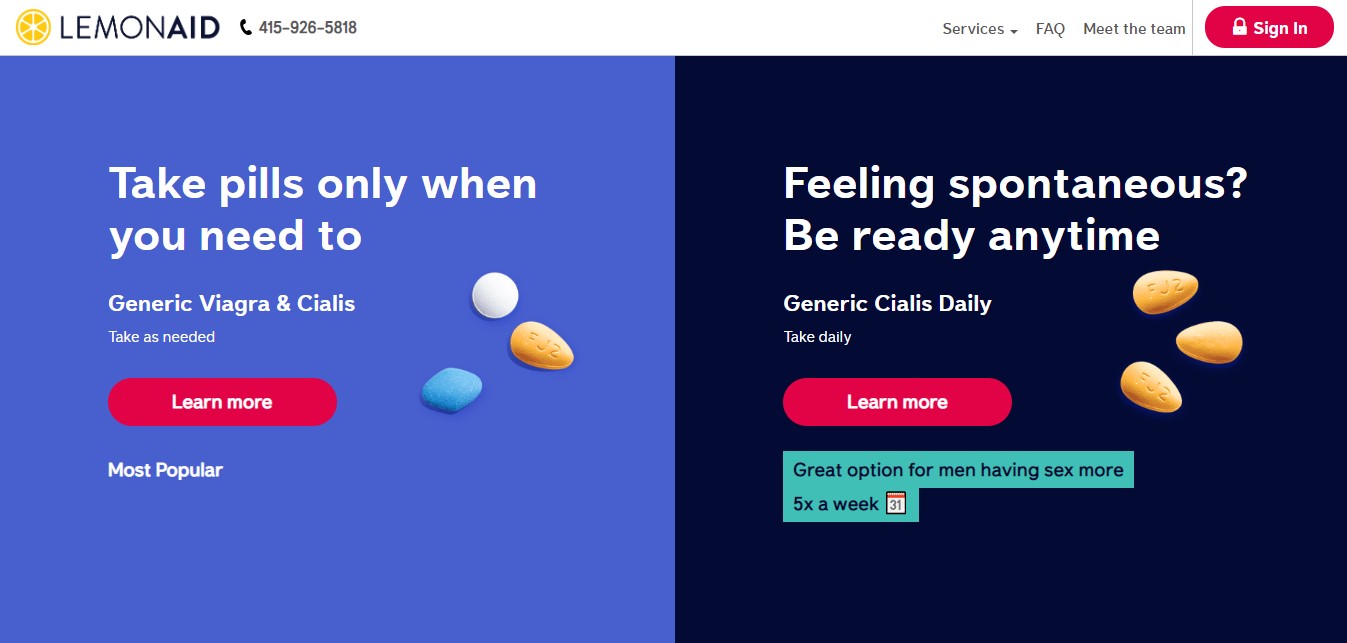 My experience with them was a bit of a hassle, to be honest. It took some back-and-forth to meet up with the doctor, and I had to stop the questionnaire several times to get the medical information they needed.
At a certain point, it felt like it might have been easier to just go to my own doctor. In their defense, though, it should only be a pain the first time you use it.
However, if I had the chance to do it over again, I wouldn't go through all the trouble of ordering from Lemonaid Health at all. There are too many other options that make things quick and easy — BlueChew being my personal favorite.
For men that want to talk to a doctor face-to-face without leaving their home, though, Lemonaid Health might be a good choice. I can definitely see how it would be a smart option for guys that suffer from health problems beyond erectile dysfunction.
My Experience Actually Using Lemonaid Health
While getting the pills from Lemonaid Health wasn't particularly easy, I would be willing to forgive the hassle if the medication worked.
So did it? Yes…and no.
Here's a dirty little secret about generic medications: they're not all made by the same manufacturer. As a result, they're not all equally effective for every user, even if you're taking the same medication in the same amount.
I took the same amount of Sildenafil I normally do, at the same time. I did everything the same way I always do (well, not everything, but that part's between me and my girlfriend).
It definitely gave me an erection, I can't deny that. However, it was a fairly run-of-the-mill boner. I wasn't as hard as I usually get with Sildenafil, and I didn't experience as much sensation, either.
I also had to stay active or my erection would flag a bit.
Now, I'm not necessarily complaining about the staying active part, but sex is a funny thing. You never know what's going to happen — the phone could ring, someone could knock on the door, or you could just need a breather.
It's a little stressful to know that any break in the action could lead to losing your erection (and the stress certainly doesn't help, either). As a result, the whole experience felt a little rushed. To be honest, I wanted to finish before it got to the point that I couldn't finish.
Overall, I can't complain too much, as the medication certainly got the job done. However, it was far from my finest performance, and I don't think I'd use it again unless I didn't have any other option.
Is Lemonaid Health Legit?


Lemonaid Health is absolutely legit in just about every sense of the word.
They're an established American company that uses real, licensed doctors. Their medications are safe and made in the USA, and they're all generic equivalents to brands like Viagra and Cialis.
Now, that's not to say that Lemonaid Health will definitely solve your ED issues — but they're not a scam.
How Do I Cancel Lemonaid Health?
If you decide you don't need their services anymore, all you have to do is log on to your profile on the Lemonaid Health website and message them.
You can also call them if you'd rather talk to a real person.
Are Lemonaid Health's Pills As Good As Viagra and Cialis?
The medications that Lemonaid Health offers are equivalent to Viagra and Cialis, yes.
However, as noted above, not all generic medications are the same. You may find that Lemonaid Health's generics work better or worse for you than those found from other sources.
Lemonaid Health vs. Roman vs. BlueChew — Which is Best?
Lemonaid Health, Roman, and BlueChew are very similar services, in that they pair you with medical providers that you can talk to face-to-face, if necessary. They place a premium on providing high-level medical care.
BlueChew is often less expensive than Roman or Lemonaid Health.
So which is best? That depends on what you need. You can read my BlueChew Review here.
Does Lemonaid Health Offer Promo Codes for Viagra?
No, they don't offer discounts on their medication. Their prices are competitive, though.
If you'd like a free trial of either Sildenafil or Tadalafil, your best bet is BlueChew. They offer free samples with a promo code — you can get your entire first order for free, in fact.
What's the Verdict on Lemonaid Health?
Lemonaid Health is an exciting new service, and it could be a lifesaver for certain men — especially those suffering from serious health conditions.
However, if you just want to improve your sex life like I do, you'll likely find that the service is a bit of a hassle. Also, their medications didn't work as well for me as some others I've tried.
All in all, I'm always glad to see another trustworthy medical provider enter the men's sexual health market, so I can't criticize Lemonaid Health too harshly. I just don't think I'll use it the next time I need to order my Sildenafil.