Bluechew Review: We Ordered Some To Find Out if it Works
The Viagra patent fully expired a few months ago.
Already I've noticed ads for new medications, many claiming benefits like cheaper prices and extra convenience like home delivery.
BlueChew is one of them, and for this post, I've done an in-depth investigation of their product, company, and billing system.
Why I Wanted to Review BlueChew
There are a few reasons I chose to review BlueChew instead of the dozens of other ED medication out there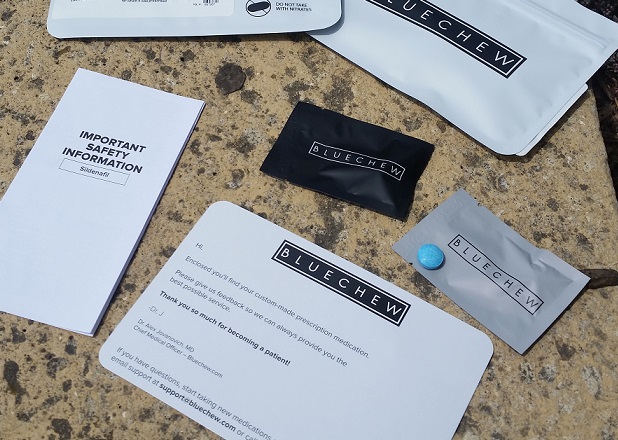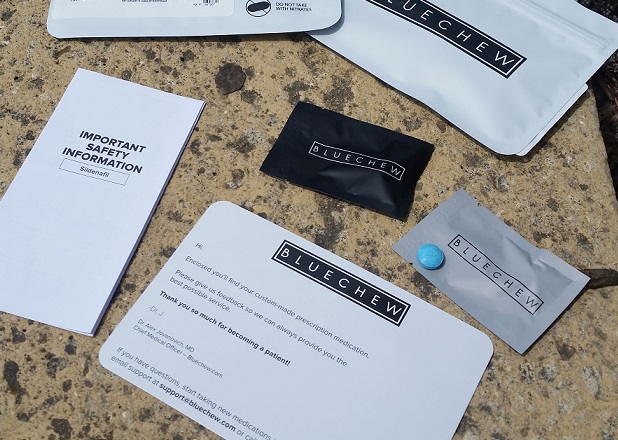 It's based in the USA
It's chewable, a first for ED medication
The prescription is given by an online doctor, so you don't need to go to a brick-and-mortar clinic
It's also a monthly subscription service and arrives every month on autopilot
I've taken Cialis for 9 years and was definitely curious to see if BlueChew would make for a more convenient replacement.
The only downside seemed to be it was a mysterious brand I've never heard of.  Whereas Viagra and Cialis are household names, I'd only just seen an ad for BlueChew.com online and not on TV.  
That's why I decided to bite the bullet and make this review.
BlueChew Pros and Cons Overview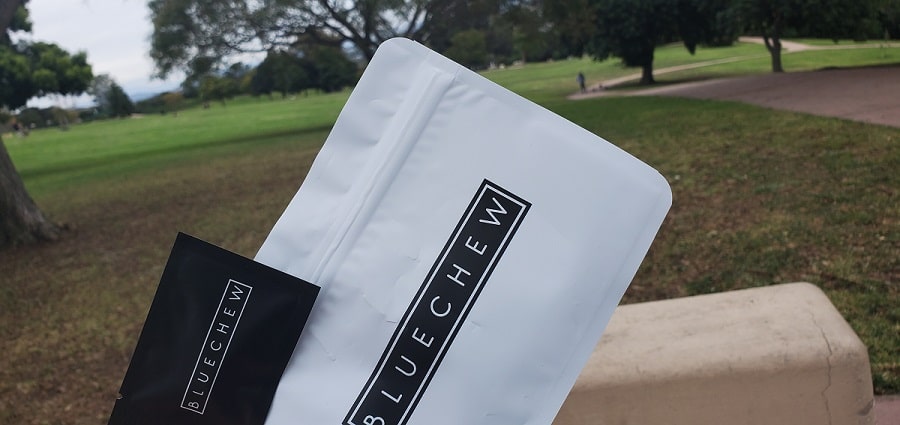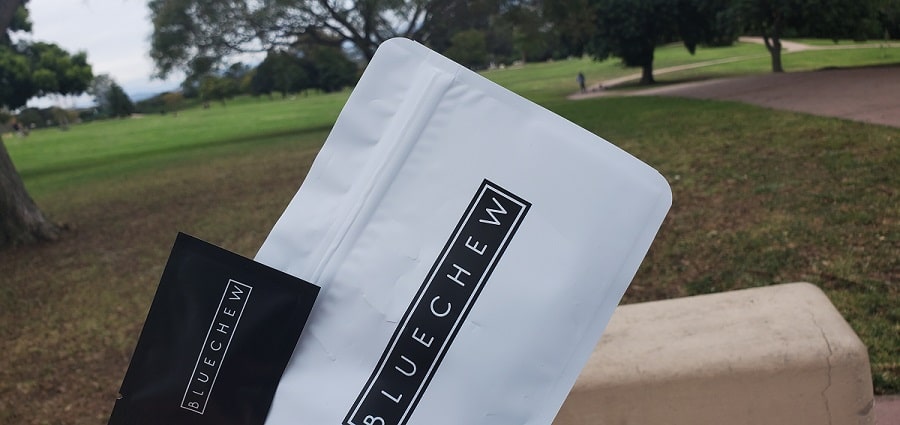 Pros
BlueChew gets delivered every month
No in-person pharmacy or doctor visit
Less expensive than Viagra
Each dose is packaged individually
Choose from Tadalafil (the active ingredient in Cialis) or Sildenafil (the active ingredient in Viagra)
Cons
It's not a comprehensive health assessment compared to an actual doctor's visit
Can have potential side-effects
For some people with aggressive ED, the dose may not be high enough
BlueChew Tadalafil vs Sildenafil
BlueChew has two types of ED medication right now – sildenafil and tadalafil.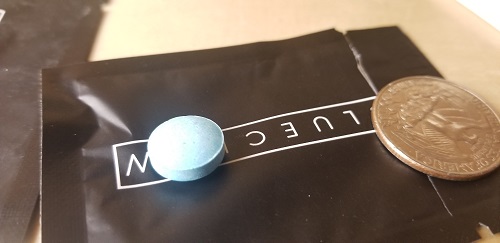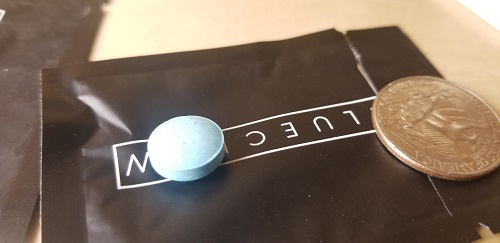 Sildenafil – This is the active ingredient in Viagra.  It lasts for 4-6 hours and is meant to be taken before sex.  It's designed to rush blood to the penis, giving you a guaranteed erection regardless of mood or arousal.  When you order it from BlueChew it comes individually wrapped in black packets.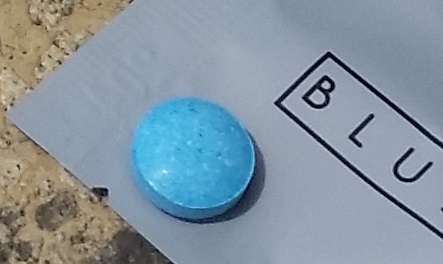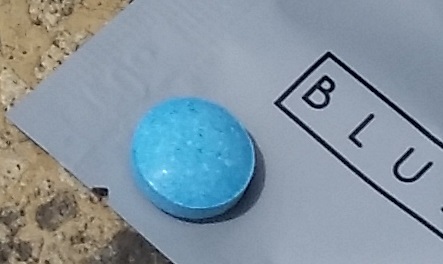 Tadalafil  – This is the active ingredient in Cialis. It lasts for 24-36 hours and lets you get an erection much easier when you're naturally aroused. Some men take a daily Tadalafil, which allows them to have sex whenever the time is right. When you order it from BlueChew it comes individually wrapped in gray packets; it's also a brighter blue color than sildenafil.
These are both phosphodiesterase-5 (PDE5) inhibitors, which increase the level of cyclic guanosine monophosphate (cGMP) in the bloodstream, this cCGMP produces an erection by dilating blood vessels.  In men with ED, cGMP production is lower than normal.
Which One To Choose?


Tadalafil is best for:
Men over 45 suffering from physical ED
More Potent ED medication
If you're not sure when you'll be having sex within a 24-36 hour period
Sildenafil is best for:
Younger men with performance anxiety
Guys that want a boost to their libido and increase the strength of their erections
Temporary ED brought on by stress
If you are new to ED medication and nervous about side effects
Personally, I prefer Tadalafil because my ED is more advanced and Tadalafil is a more potent cure in my experience.
My Personal BlueChew Experience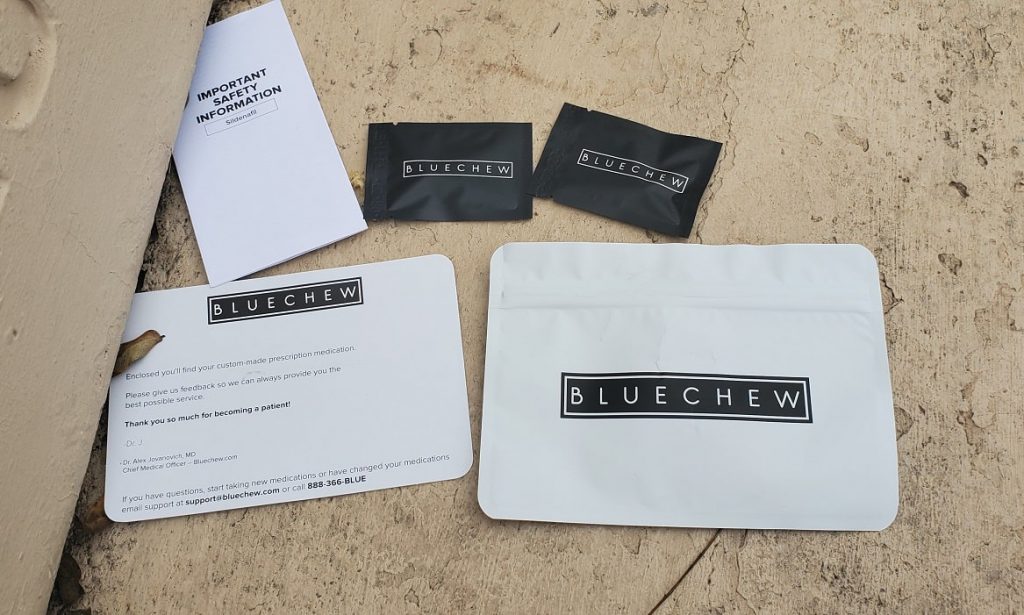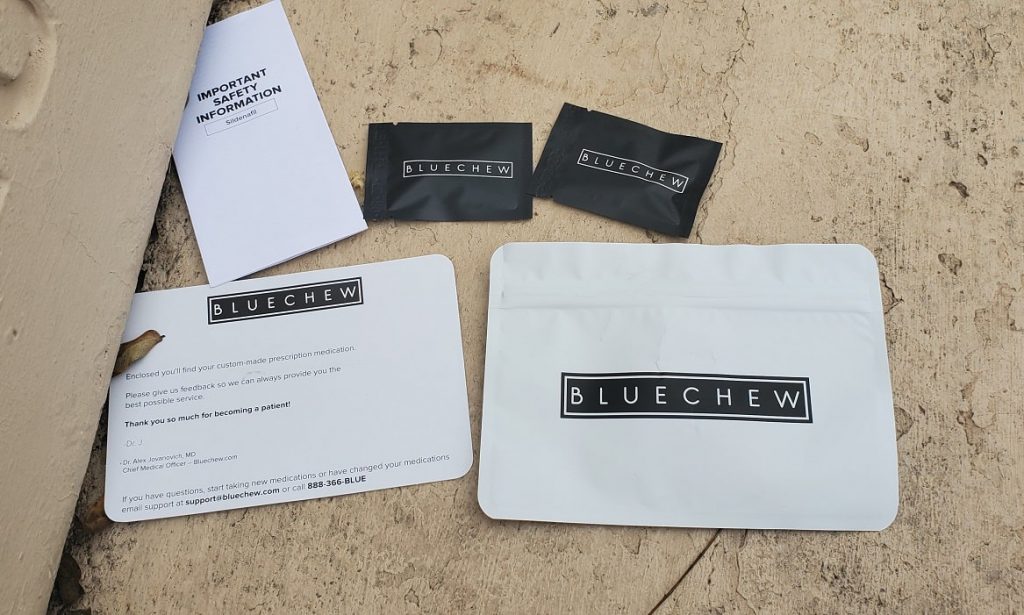 I'm 54 and have had ED for 9 years. I've tried Viagra, Cialis, Levitra, as well as some generic and otc sildenafil from companies like hims and roman.
And now BluecChew too.
Usually, I take 5mg Cialis, which I take on days I'm planning to have sex.  I prefer to have the 24-hour effects so that I don't have to scramble to take a pill and ruin the moment.
Let me start off by saying not all Sildenafil and Tadalafil are created equal. Like with many drugs, there's different quality and density of the main ingredient.  Some generic sildenafil I've tried that claimed to be 50 mg has not worked for me at all, but others with 25mg have worked wonderfully.
The best way for me to test the quality of BlueChew's ingredients was just to take it myself, and compare it to my experience with Cialis.  
Taking BlueChew Tadalafil
For this review, I took the 6mg Tadalafil from BlueChew.com, which is 1mg more than what the Cialis 5mg Tadalafil I usually take.
I took my dose just after breakfast at 9 AM on a Saturday, this is the same time that I normally take my Cialis.  I wanted to keep all the variables of this BueChew experiment the same.
I still had a full 12 hours until my wife and I were planning on having sex.  So I spent some time reading, running some errands at Costco, and catching up on some work from home.
During this time I did not experience any random erections, which is a good sign. If I take too high a dose of certain ED medications I will randomly get an erection throughout the day, like if I see a sexual advertisement.  There's a sweet spot dosage in my experience.
Seduction
Finally, I sat down for dinner with my wife, we had some wine and talked about our week.  Even though we plan on sex, we still love to seduce each other like there are no plans at all.  It's more exciting that way.  
By the end of dinner, our conversation was dripping with sexual overtones, and the anticipation for what was coming next already had me hard, a great sign that the tablet was actually legit medication.
"Patience" I had to tell myself several times.  
The Sex
Normally without any medication, I'd be fighting an uphill battle to keep my penis erect during sex, but that wasn't the case this time. You know how it goes, even if the sex is really hot, sometimes your mind wanders to something non-sex-related, and then suddenly my erection would start dying. But with these meds in my system, I was 100% solid the whole time. Being so rock-hard helped to keep me in the zone for that hour.   Without going into too much detail, I came three times (a new record) and my wife experienced multiple orgasms over the hour.  
One thing I love about sex on BlueChew (and most ED meds) is that the refractory period is much lower. After I orgasm, I still stay hard, so I can give an extra push to the finish line if my wife is on the verge of another climax. It doesn't feel great for me, but I'm kind of like that. After about 5-10 minutes it starts to feel like normal sex again and we're both having fun.
Stuff like BlueChew has earned me the moniker: "the man of multiple orgasms" from my wife. I'm very proud of my title.
It gets my stamp of approval as pure, high-grade quality Tadalafil.
BlueChew's Claim to Fame: Chewable ED Medication
Chewable medication is perfect if you don't like swallowing pills. There are some other benefits I've noticed of BlueChew chewables, too.
They taste good. BlueChew contains flavorings that give it a sweet taste similar to candy.C
You can take them without water, which can be handy if sex is spontaneous.
Online Visits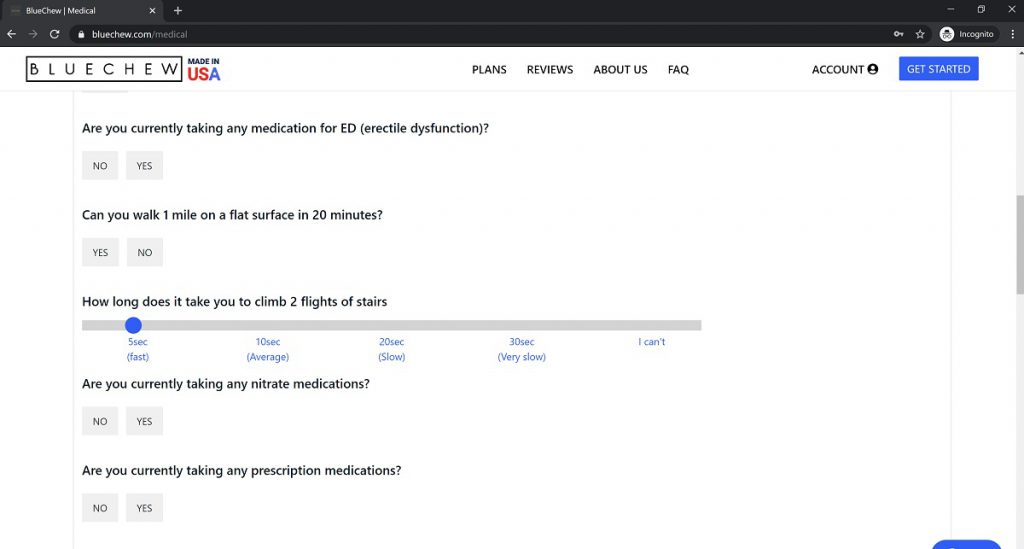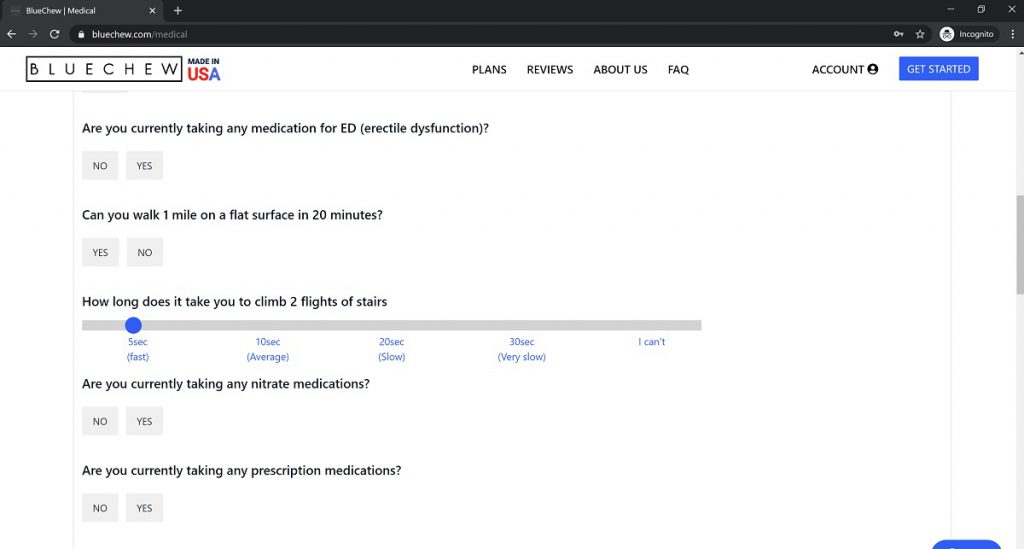 Since the whole transaction happens online, a customer doesn't need to go to a doctor or a pharmacy to get BlueChew. The entire process starts with a short online health assessment. Afterward, one of BlueChew's licensed doctors reviews the assessment, which details past medical history and current symptoms. 
If you have a large deductible or your insurance doesn't cover ED meds, then a product like BlueChew can save you a lot of money because this "online doctor's visit" is free. To get Viagra from a doctor you can spend $100+ on the visit and as much as $50 per pill without the right insurance coverage.  That used to be my life, but now I am free to buy sex pills without re-mortgaging my house!
When Should You Take an ED Medication Like BlueChew?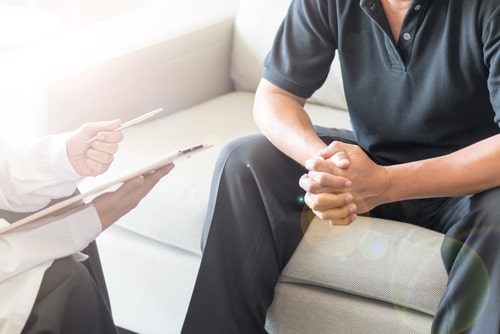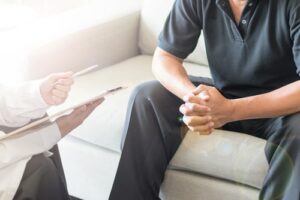 As a Professor of Reproductive Health who's had ED for 9 years, I'm somewhat of a pro in this area. 
Basically, ED can strike at any age, but it gets much more common as we get older. It's usually caused by aging (that ol' chestnut) but other life factors such as smoking, stress, sleep deprivation, and excessive alcohol consumption can cause it too.
There are studies showing that mild and moderate erectile dysfunction affects 10% of the male population for every decade of age group, though men tend to experience ED more severely as they get older. As a rough rule of thumb, 40% of men in the 40s age group suffer from ED, then 50% of men in their 50s suffer from ED, and so on. ED is a cruel mistress.
Symptoms of ED include irregular libido (i.e. not being horny), difficulty reaching climax, or being unable to get/maintain an erection. I know from personal experience that erectile dysfunction can strain your relationship and make you feel quite ashamed and sad. It sounds cliché, but you do feel like less of a man in some way.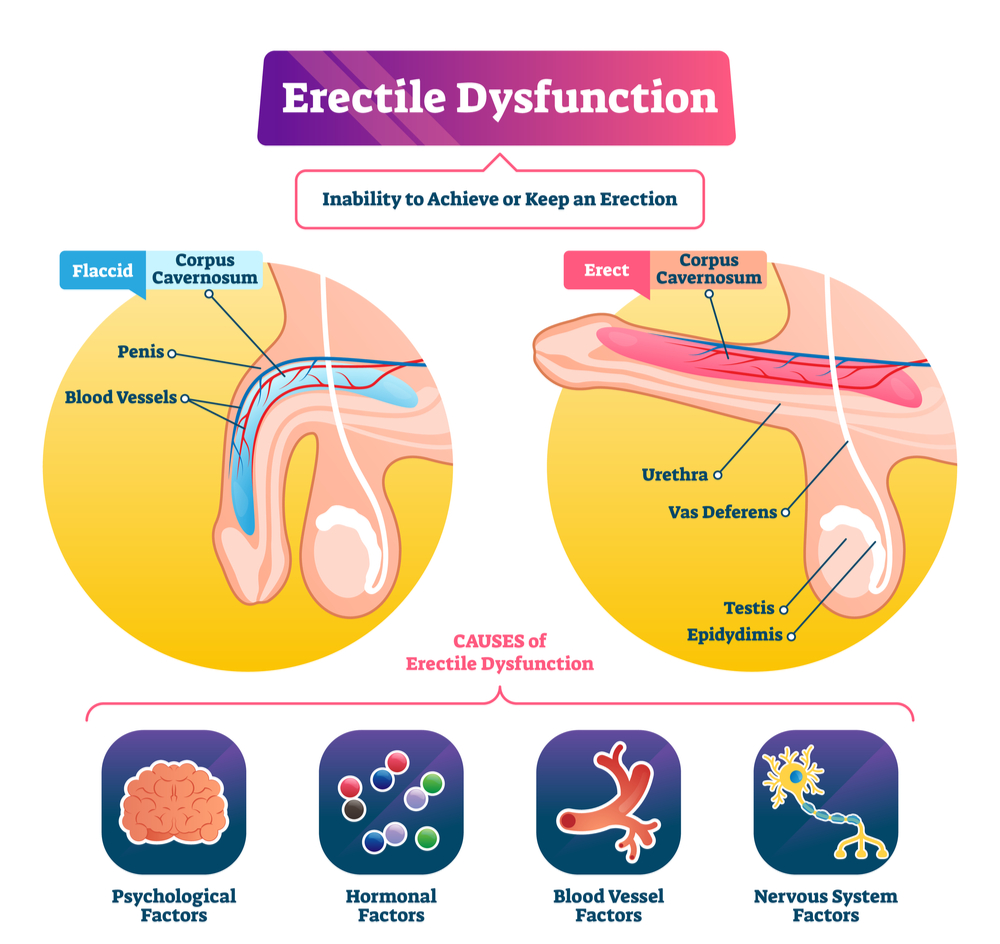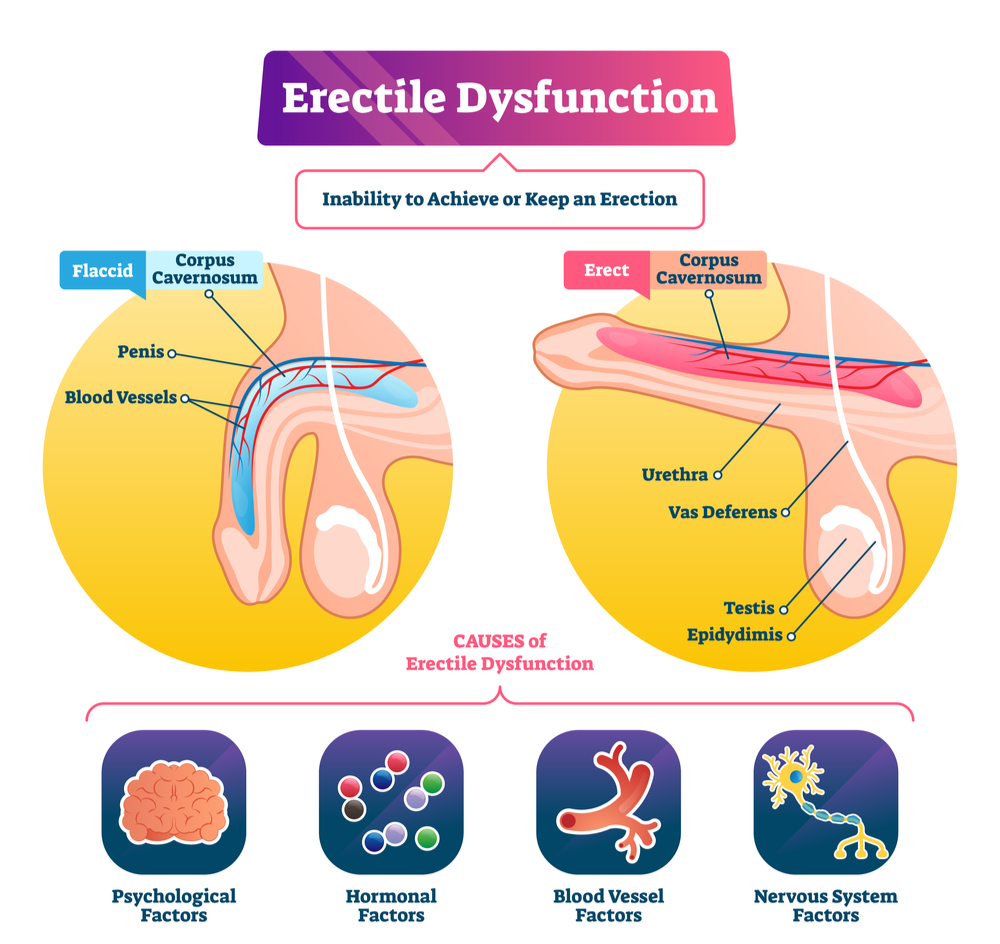 The best option for most people (including myself) is to turn to medication. Luckily, ED medication is available on prescription if a doctor thinks you're fit enough to take it. You can get it delivered from overseas without a prescription, but you're rolling the dice on your cock there, buddy!
The most common drugs that treat ED are Viagra and Cialis. These drugs used to be expensive since they were patented, but the patents recently expired. "Viagra" is a brand-name drug that uses the active ingredient of sildenafil. "Cialis" is a brand-name drug that uses the active ingredient of tadalafil.
Generic versions do literally the same thing and cost a ton less.
Recap of BlueChew's Features
Easier Way to get ED Meds
Treating ED used to be time-consuming and potentially embarrassing. Us guys had to go to the doctor's office, then see a specialist. After that, we might get a prescription of drugs at the pharmacy or perhaps get tested even more.
Some of these doctors and pharmacists couldn't give two hoots about your ED problems, and sometimes it's not a nice experience.
A huge plus of BlueChew is that it's shipped straight to your door in discreet packaging, avoiding all the clinic visits.
For guys who don't have serious medical conditions to consider, we now have a discreet way to be prescribed meds with minimal embarrassment. No doctor's visits, no pharmacy trips, no face-to-face appointments. We're already living in the future of ED medication.
Individual Packaging 
BlueChew makes individually packed tablets in discreet packaging. Each dose comes in a stylish sachet that can easily be put in a wallet or pocket and taken on the go. The sachet has the BlueChew logo on it but says nothing about Viagra or erectile dysfunction. Personally, I keep a couple in my wallet, just in case.
The design of the BlueChew packets makes them easy to take on vacation or during a trip. I used to hate stuffing a large bottle of ED meds into my suitcase before a vacation, but now I just throw in 7 days' worth of BlueChew packets and I'm good to go. It's so much easier. Plus, if you lose your luggage, you don't lose your entire Cialis or Viagra supply!
I think the packets also help to keep the pills in a good condition because they're not smashing together against other pills inside a bottle. The only downside to this packaging is that it wastes a lot of materials, so it's not the most eco-friendly thing.
Can Choose Between Sildenafil and Tadalafil BlueChews
In a prescription of BlueChew, you will either get Sildenafil or Tadalafil (the active ingredients of Viagra and Cialis, respectively). These active ingredients are FDA-approved as safe and aren't known to have any serious side effects if you take them as you're supposed to. Don't go chugging them all!
Just to remind you of the boring science behind this – Sildenafil and Tadalafil prevent a chemical called phosphodiesterase type-5 from functioning. This causes the body's blood vessels to relax and widen. As a result, blood flows more easily to all areas of the body – including the penis. This new blood flow increases sexual stimulation and helps to maintain an erection during sex.
Basically, the main difference between Sildenafil and Tadalafil is their length of stay in the body. Tadalafil stays longer in the body for up to 36 hours, while Sildenafil lasts for just 4-6 hours. Sildenafil is designed to give you a guaranteed erection quickly, while Tadalafil makes it easier to gain an erection when you get aroused in a 24-36-hour window.
Both have their ups and downs, but I'm a Tadalafil guy through and through.
The Doctors
According to their website, BlueChew works with affiliated physicians trained by some of the best medical schools in the US. This includes the University of Illinois, University of California San Diego, University of Chicago, John Hopkins School of Medicine, and Ohio State University.
So basically all the doctors prescribing BlueChew medications are licensed, medical providers. It's hard to verify this without ordering many doses from every state, so I'm going to take their word for it.  Since the quality of their medication is pretty good, I don't think they'd skimp in other areas either.  The last thing a new company like this wants is to cross the FDA.
Like with anything, side effects are always possible. Do keep in mind that Sildenafil and Tadalafil may have weird reactions if combined with certain medical conditions or medications, so always check that kind of stuff with your own doctor if you're a bit unsure. Better safe than sorry.
Good Customer Support 
BlueChew has good round-the-clock support in my experience. The company has customer service specialists in place to answer questions about billing, shipment, and other technical matters. You can also speak to one of their physicians if you have specific medical questions. I like that.
During the BlueChew free trial period, the support staff sends an email three days before the billing date. This email allows you to give feedback and cancel your subscription if you're not happy for any reason. That segues nicely into my next section…
How to Cancel Your Subscription
If (God forbid) you're not happy with BlueChew for any reason, there are a bunch of ways you cancel and stop being charged. In fact, there are 5 ways:
Cancel in the dashboard – go to the "my account" section on the website and select the "PUT ON HOLD" option. This will suspend your account permanently unless you go back and change it.
Delete your account – go to the "my account" section on the website and select the option to permanently delete your account.
Delete your credit card – if you delete your card as a payment option, there will be nothing left to charge!
Call the support team – call 970-GET-BLUE to speak to the customer support team. They'll be able to cancel your subscription.
Email the support team – send an email to support@bluechew.com and tell them that you want to cancel.
They also have an administrative office in London you can write to, but I don't think writing letters is the most efficient option!
So yeah, there are a million and one ways to cancel your Bluechew subscription if you're not feeling it. You can also change your subscription plan if you'd like less/more pills every month or if you're struggling to afford the pricier plans.
Cheaper than Viagra and Cialis
In 2017, Viagra reached $62 for a single pill. Yes, a SINGLE PILL. Similarly, the current price of Cialis retails a box of 30 pills for $400 – roughly $14 for a single tablet. ED medications in the past were stupidly expensive and exploitative of guys like me.
However, Bluechew's cheapest subscriber plan is 6 Sildenafil pills for $20, so you get each tablet for $3.33. That makes Bluechew tablets almost 95% cheaper than branded Viagra.
On a similar note, the cheapest plan can also give you 4 Tadalafil pills at $20, so one tablet at $5 each. This makes these BlueChew tadalafil pills 75% cheaper than branded Cialis. Booyah!
Four Plan Options to Cater to Different Needs
According to the website, they have four plan options available for customers. You can choose a program that suits your sex life without fear of overspending. Here's a summary of the plans:
"Active" at $20/ Month for six chewable tablets of Sildenafil or four chewable tablets of Tadalafil.     
"Busy" at $30/Month for ten tablets of Sildenafil or seven tablets of Tadalafil.
"Popular" at $50/Month for 17 tablets of Sildenafil or 14 tablets of Tadalafil. This is the most popular option.
"Pro" at $90/Month for 34 tablets of Sildenafil or 28 tablets of Tadalafil.
BlueChew Free Trial Period
All first-time subscribers can get a free trial worth $20 for the first month. You get the "active" plan by default – the cheapest one. If you wanna try a better one, they'll give you $20 off the plan you choose instead. I went for the "popular plan" with $20 off.
As I said before, you can cancel at any time before the payment date is due. As with most of these things, you probably want to do it a few days before you are due to be billed again. These things can take a while!
So yeah, if you're curious about using ED medication, this free trial could be a good way to discover whether BlueChew is suitable for you. It certainly hooked me in!
Other BlueChew Reviews
Although I consider myself to be a source of infinite wisdom, I am just one man after all. So for this section, I went out and put together all the BlueChew reviews I could find from other men with ED. Each BlueChew review comes from various online forums rather than the Bluechew website review/testimonial section. The first review is a tad NSFW.
"I f*cked my girlfriend so hard with these bad boys. Oh my god, we were both screaming with pleasure – it was kind of intense. I'm only in my early 30s, so I'm super insecure about having ED problems so young. Still, this shit is the holy grail of sexual enhancement pills." 
-Slapshot1591, Reddit
"A few hours after I take this, I end up nauseous the rest of the day and night and typically end up vomiting. This sucks b/c had some awesome marathon sessions on it."
-nickstarr, Reddit
"Overall, from someone who needs a little help, it's a solid product and way more affordable than the name brand."
-Eggo91, Reddit
Where is Bluechew not available?
According to the BlueChew website, BlueChew is not available in the following US states due to telemedicine restrictions:
Alabama, North Dakota, South Carolina, and Puerto Rico.
It is also not available internationally or in Canada.
If you're in one of these states, you can leave your email address on the BlueChew registration page to be notified if and when the medication becomes available in your area. Telemedicine laws are always changing, so states could become restricted or unrestricted again in the future. Hopefully, they'll all change their tune sometime soon!
Is BlueChew safe and legit?
The FDA has officially classified Sildenafil and Tadalafil as safe for consumption. These are the two active ingredients found in BlueChew products.
I should mention that compounding treatments performed by partner pharmaceutical companies are not FDA approved.
What are the possible side effects of consuming BlueChew?
Like any other medication or drug, this stuff has a low chance of triggering side effects. The side effects will vary depending on which one you choose.
Sildenafil medications might cause nausea, headaches, skin redness, nasal congestion, blurred vision, muscle aches, back pain, high blood pressure, diarrhea, or hot flashes. Hearing or memory issues are sometimes reported but they're rare.
For Tadalafil medications, you might experience coughing, light-headedness, skin redness, muscle aches, or hypotension.
Can Anyone buy BlueChew?
No. This stuff can only be sold to guys with prescriptions from the company's affiliated physicians.
If you've got 500 underlying medical conditions, you're probably not gonna make the cut. If you've got a couple of health problems, they might just give you a lower dosage. Every person is different, and that is why each patient is individually prescribed by a licensed physician via Bluechew's service.
BlueChew did not work for me. What should I do?
The website recommends switching your subscription to the other variant. For example, if you ordered Sildenafil and it didn't work, simply change the subscription to Tadalafil. Just keep in mind that one of their doctors will need to look over your medical chart again to check you're okay with the other version.
If you do wanna switch your subscription plan, log into your Bluechew.com account, then go to their MY ACCOUNT tab and click "Switch Plans."  
What is the refund/return policy?
If you're not happy, you can request a refund within 30 days from the date of sale. However, the shipping fee is not included in the refund. It's only a few dollars, but yeah.
Is a live video chat required?
According to the website, it depends on what state the customer resides in.
After checkout, you may be asked to start a live video chat with one of the BlueChew-affiliated medical providers. I had to do it to prove my identity and whatnot.
What are the questions you'll be asked to get prescribed BlueChew?
Before being prescribed your precious chewable ED medication by BlueChew's affiliated physicians, you must answer a bunch of questions. These questions help physicians decide if you can take BlueChew safely. There are 19 questions to claw through:
Are you male and seeking treatment for improved sexual activity?
Reason for choosing BLUECHEW™ for your treatment
Are you currently taking any medication for ED (erectile dysfunction)?
Can you walk 1 mile on a flat surface in 20 minutes?
How long does it take you to climb two flights of stairs?
Are you currently taking any nitrate medications?
Are you currently taking any prescription medications?
Are you taking any other medications, vitamins, or supplements?
Do you have any allergies (medication, environmental, foods, other)?
Have you ever been told you are not healthy enough to have sexual intercourse?
Do you have any other medical conditions or surgeries?
Do you take any of the following medications?
Have you ever been diagnosed with low blood pressure?
Have you ever been diagnosed with high blood pressure?
Do you have any heart conditions or experience abnormal heartbeats (fast, irregular, unusually slow)?
Have you experienced chest pain/pressure or difficulty breathing while active?
Have you experienced any episodes of fainting, severe light-headedness/dizziness?
Have you experienced any blurry/abnormal vision or severe unexplained headaches?
Is there anything else you would like to tell the doctor?
BlueChew Review Conclusion
In my experience, BlueChew is a good way to alleviate ED symptoms and save a ton of cash.
It's cheaper than its branded counterparts.
The streamlined process with the online assessment and discreet doorstep delivery is a great benefit for men who are embarrassed or those who lead busy lives like yours truly. Also, my wife is hornier than she's been in years… it's brilliant!
BlueChew's 1-month free trial is a great way to see if this product is right for you without spending any money in the process.