Giddy ED Review and Results: How This New ED Ring Works
Get Me Giddy (or GetMeGiddy) is a company selling a penis ring device that is said to help with ED and promote harder erections for guys struggling with erectile dysfunction.
Although many guys with ED turn to cock rings for help, the Giddy ED device is shaped in a unique way that helps the blood to flow through the erect penis more naturally.
Supposedly, this leads to harder, more comfortable erections.
GetMeGiddy is a young company that started this project thanks to IndieGoGo in 2019. Originally asking for $25,000 from backers to make this product, demand was so high that they received over $275,000, 1114% of their original goal!
So, was all that support worth it? Let's find out in this Giddy review!
Pros and Cons of the Giddy ED Device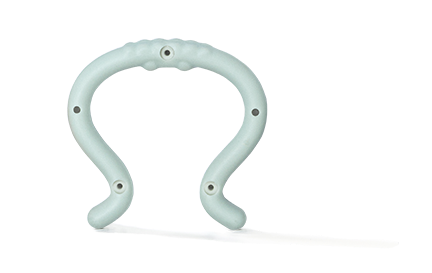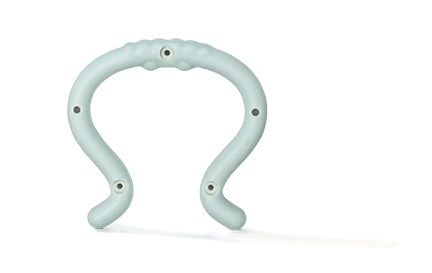 Before getting into the details, I think it's best to lay out the pros and cons of this penis ring:
Pros
FDA-registered Class 2 medical device

Promotes harder erections with natural-feeling blood flow

Ejaculation feels more natural

Relatively cheap compared to other ED treatments

No real side effects

Bumped design can help to pleasure female partners during sex

4 different sizes (A, B, C, D) for different penis sizes and ED severities

Promotes physical and mental confidence in the bedroom!
Cons
A little bit uncomfortable for some guys

Tricky to get on and off

It's easy to buy the wrong size

Larger guys often too big for the largest size
While the Giddy ED device has its shortfalls, it's mostly positive feedback from me and most other customers. If you've never used penis restriction rings or you're not sure how to use a cock ring, then this device may not be great for you.
However, if you're used to wearing penis restriction rings or the idea of it doesn't bother you, then this product could be perfect for you. It's non-invasive, you aren't taking pills, and you aren't buying into snake oil "natural ED cure" products.
With Giddy, what you see is what you get – an erectile dysfunction support sleeve.
Things to Consider Before Buying the Giddy ED Penis Ring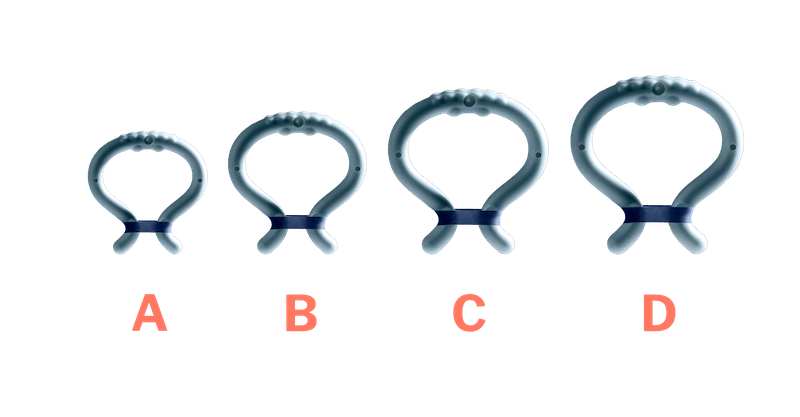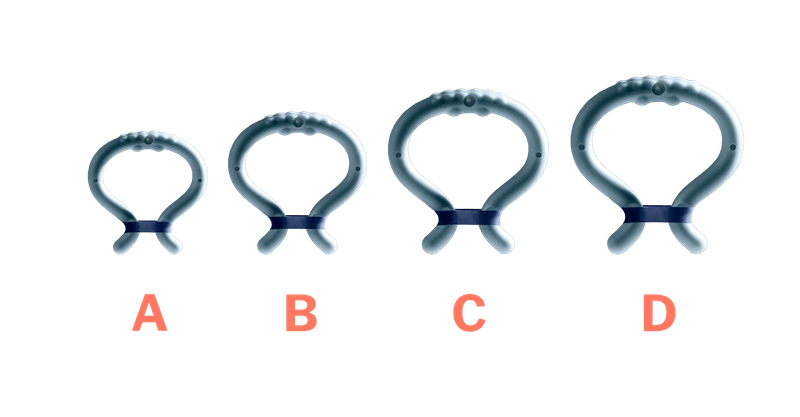 Here are some things to bear in mind if you're thinking about buying this erectile dysfunction support sleeve:
Will you be embarrassed?
Some men are very ashamed of their ED problems, so they'd prefer an ED treatment which isn't so obvious. While the GetMeGiddy Eddie device does indeed help to give you harder erections, your partner can obviously see that you're wearing one. This makes some men feel embarrassed.
If you want an ED treatment that you can't see, you probably want to go for chewable Viagra pills like BlueChew. Check where you can get free Viagra samples.
Have you used penis restriction rings before?
Cock rings and penis restriction rings are commonly used by men struggling with erectile dysfunction.
However, if you've not used one before and you don't know how to use a cock ring, you might want to do your research and try some cheap ones out first.
Can you afford it?
While Eddie by Giddy is one of the cheapest ED solutions on the market, $99 for a pack is still stretching the budget for a lot of guys out there.
Don't go broke chasing better boners!
Features and Benefits of GetMeGiddy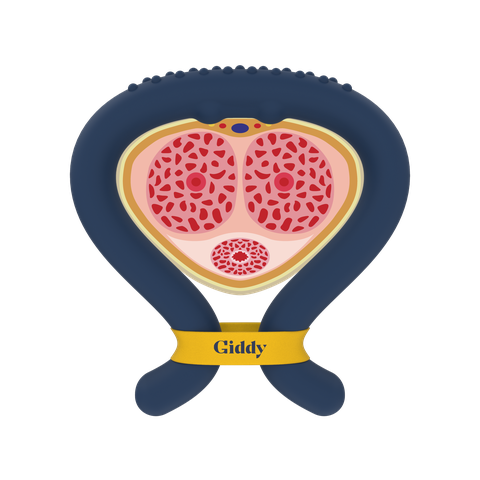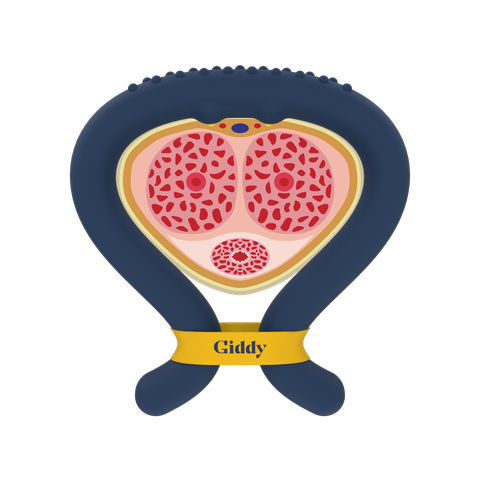 The Eddie Giddy ED device has many great features, despite having a weird name. Who calls a penis ring "Eddie"? Anyway, here are some of the great things you can look forward to when you buy yourself this ED treatment.
Engineered by urologists for harder erections
Most cock rings are circular, which is their first mistake.
You see, penises aren't round – their circumference is slightly oval-shaped as well. So when you put a circular cock ring on a penis, it squashes it down unnaturally and puts unhealthy pressure on the corpora cavernosa, where the blood is stored in the penis during erections.
With Giddy, your corpora cavernosa is restricted at the base but it isn't squashed into an unnatural shape. This means that you have harder erections for longer without feeling uncomfortable. Read more about how to maintain an erection.
Stronger and more comfortable ejaculation
The majority of penis restriction rings squash your urethra (where your semen comes from) into an unnatural position. This means then when you ejaculate with a cock ring on, it can feel a little uncomfortable or painful.
Yikes.
With Giddy, your urethra retains its natural shape, so ejaculation feels more natural and you don't feel any pain when "arriving", so to speak.
4 different sizes available to fit all guys
The Eddie ED device comes in 4 different sizes – A, B, C, and D. The different sizes are suitable for different penis sizes and different levels of severity with ED.
Of course, finding the right size for you is tricky. I personally had to try 3 different sizes before finding the right one for me. It is annoying, but once you find the right one, you'll be fine. Also, the customer service team was pretty good at facilitating returns in my experience.
They even have "size insurance" for this very issue.
Just beware that if you're on the larger side, you might have some trouble. A lot of larger men say that the biggest size (the D size) is too small for them.
Designed for female pleasure too
The GetMeGiddy ED penis ring comes with a unique bumpy design on the surface. Supposedly, this is supposed to help stimulate the clitoris if you're having sex with a female partner.
I'm not 100% convinced.
While I don't personally think it does that much to my own female partner, I've read that some women love it. Personally, I think that this aspect of the product is just a marketing gimmick, but maybe I'm just not plowing deep enough.
No nasty side effects
If you're taking pills for ED, you probably spend a lot of money on them, as erectile dysfunction medication is rarely covered by insurance.
You might also experience nasty side effects like headaches, drowsiness, blood pressure problems, and boners that last too long after sex is finished.
Urgh.
If you're on certain medications, taking boner pills can also be dangerous and ill-advised by doctors.
However, with these Giddy penis restriction rings, you're getting ED treatment as and when you need it without all the nasty side effects and health risks.
Cock rings are already pretty harmless when they're used correctly, but the Get Me Giddy penis ring is designed to reduce the risks even more.
Discreet shipping
Obviously, you don't want to tell all your neighbors that you're struggling with erectile dysfunction.
Luckily, GetMeGiddy Eddie comes in discreet boxes that have no information about erectile dysfunction on the box, allowing you to maintain your privacy.
They'll never know!
As far as the neighbors are concerned, you're just picking up a random parcel from Amazon or something.
No more doctors visits or prescriptions
Most of us hate going to the doctor at the best of times, but if you've got a sexual problem, it can be especially embarrassing.
I love not having to go to the doctor and talk about my sex life anymore. Like, I understand that they're used to it and it's not a big deal to them, but it gives me huge anxiety and I always feel weirdly ashamed after it.
With the Giddy ED device, there's none of that to worry about. I literally just place an order and voila! If it doesn't fit, then I organize to get a new size sent out.
It's so much easier.
Other People's Giddy Reviews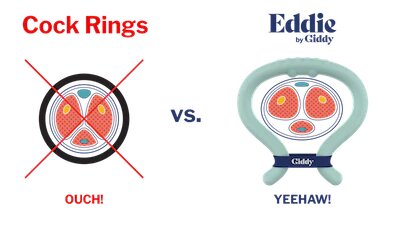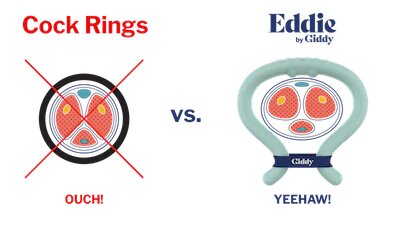 If you're looking up Giddy ED reviews, you probably want multiple perspectives. Here are some balanced customer quotes from the GetMeGiddy TrustPilot page:
"I use the size C and it works as you advertised. Erection is sustained as long as desired. I am in my 80's and it makes me feel I am in my 20's."
Anonymous
"I was a little skeptical but man this thing works. I'm referring my friends to this amazing product!"
Dale Ellison
"The shape of the Eddie is great, but I would love to see a better fastener than the bands provided. Once, in an attempt to fasten my Eddie, I shot the band across the room. I've even lost my erection trying to fasten the Eddie."
Rocman
"It very nice to have an erection without resorting to drugs. It is very easy to put on."
Martyn
"Thank you for making the new size ordering quick and painless. This one is so much better than the one that was too tight."
Dave
Alternatives to Giddy ED Treatment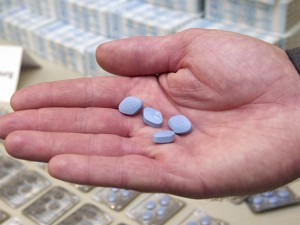 Obviously, penis rings aren't for everyone. I can sing this product's praises till the cows come home, but if you don't like wearing cock rings then this ED device isn't going to be for you.
If you'd prefer ED treatment which is more discreet (i.e. you don't need to wear something during sex) then I'd say to try BlueChew.
BlueChew is a company selling generic Viagra (what does Viagra look like?) and generic Cialis pills which you chew instead of swallowing. This means that they're very cheap, easy to take, and you can quickly wolf them down when you're on the go.
Yep, it's that simple.
The chewable Viagra pills come in separate little pouches, so they're easy to carry around in your wallet or pocket and take when you're about to have sex. The chewing action actually helps them to work more quickly, so you normally get an erection around 20-30 minutes after taking them.
So yes, if GetMeGiddy doesn't work for you, I'd recommend trying BlueChew chewable viagra tablets instead!
Conclusion – Should You Buy a Giddy ED Device?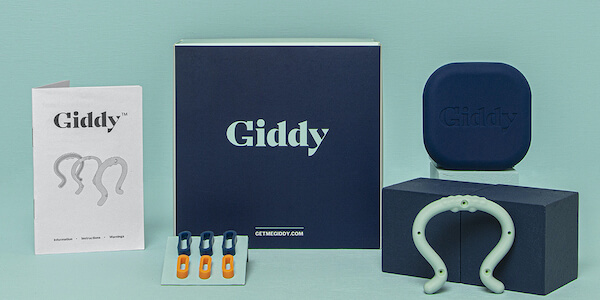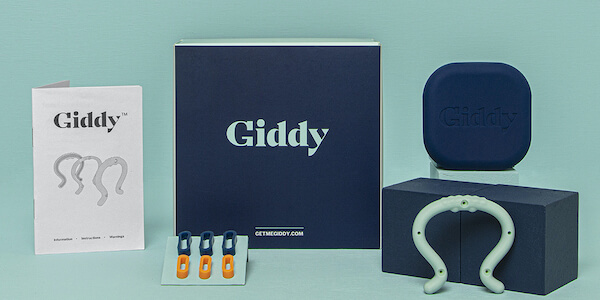 In summary, these Giddy Eddie penis restriction rings are great for men with ED who don't want to take pills or deal with awkward hospital visits. If you've used cock rings in the past and found them uncomfortable, these unique erectile dysfunction support sleeves could be the engineered solution that you need.
They're designed by Urologists after all!
However, if you don't like the idea of wearing a penis ring during sex or you can't find a Giddy size that works, I'd recommend trying the cheap chewable viagra tablets from BlueChew.com instead.
I hope you enjoyed this Giddy Review. Whatever ED treatment you decide to go for – I hope you find the ED solution that works for you.
Have fun in the sack!